CRS engages in a variety of activities including retail and sales education programs, conferences, seminars, student competitions, and conducting research in areas that affect the retail and sales industries.
HaydenFilms Institute will sponsor the Fall 2022 CRS Collegiate Challenge.  Student teams will be tasked with creating a marketing plan for HaydenFilms.  The event will be open to undergraduates at any 2-year or 4-year university.  Teams of 3 or 4 students will have a chance to compete for a 1st place prize of $1000 and a 2nd place prize of $400 provided by the sponsor.  The challenge will take place on the DeSales University campus on 10/26/22. Follow CRS @thecrsorg on Facebook or check back here for more info.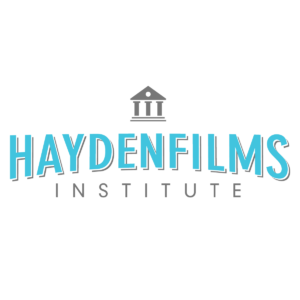 Giant Food Stores sponsored the Fall 2021 CRS Collegiate Challenge.  Student teams were tasked with creating a marketing plan for Giant's prepared food line.  Ten teams competed for a 1st place prize of $1000 and a 2nd place prize of $400 provided by Giant.  Congrats to 1st place winners from Penn State Lehigh Valley: Alexis Matlack, Hemil Patel, Brianna Peters, and Bejamin Stratz.  Millersville students Ryan Eckert, Marquis Wright, and Kritsada Wongsa took 2nd place.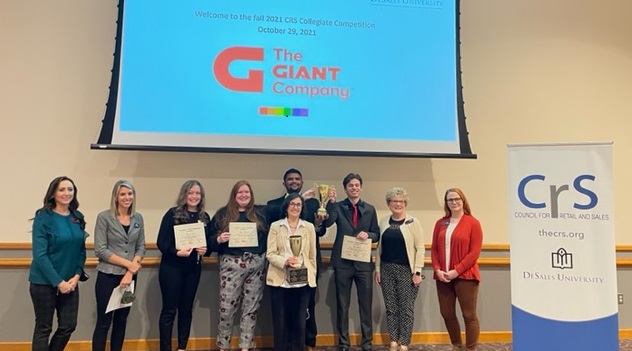 PSU-LV wins CRS Collegiate Challenge for 2nd consecutive time
Center Valley – Oct 31.  The Council for Retail and Sales, housed at DeSales University, hosts two collegiate case competitions each year.  This semester's competition was sponsored by the global powerhouse Brenntag Food & Nutrition.  In its 2nd consecutive win, Penn State Lehigh Valley team MakeConvenient Lions Consulting, led by faculty advisor Dr. Denise Ogden, took home 1st place.  The winning team consists of students Hemil Patel, Georgia Gonzalez, Ben Stratz, and Simon Tomaszewski.
Seven teams altogether competed in the competition and were tasked to solve a real business opportunity for the sponsor. The focus of the competition was to help Brenntag launch a new product line during the time of Covid-19 when typical face-to-face sales models will not work.  Many customer R&D and purchasing departments are working remotely, not accepting supplier visits, and industry tradeshows have been canceled.  Brenntag tasked the teams with finding creative solutions to get this new product out to market and quickly generate sales.
Shea Worman, Business Development Manager for Brenntag Food & Nutrition and one of five judges for the competition said, "It was so much fun!  It really was difficult to pick the best teams.  All the students were professional and did a great job.  The judges and I learned so much and have a lot of fresh ideas to share with our teams.  We loved the experience and cannot wait to sponsor the program again!"  Doc Ogden, Chair of the Council for Retail and Sales, said, "We were excited to have such high-profile judges who get to witness different perspectives and recruit some of the best students in the state."
The 1st place winning prize was $1500 and 2nd place prize was $500.  The competition is judged on a written executive summary and recorded video presentation.  Nittany Consultants from Penn State Abington, comprised of Kyra Fripps, Tzuyin Su, Christopher Liston, and Aidan Pulli, took 2nd place.   Amnah Kahn, from PSU Lehigh Valley won the best presenter award.  Other colleges participating included Bloomsburg University, University of Lynchburg, and PSU Wilkes-Barre.
"We always look forward to this competition and it is becoming a high-profile event among our students. I can't think of a better way to prepare our students for business careers.  I was very impressed with the Brenntag management team," said Dr. Thomas Stone, faculty advisor from Penn State Abington.  The other faculty advisors from Abington included Peter Hornberger and Kevin Mayhew.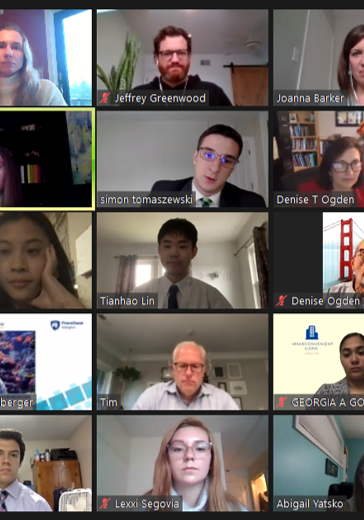 Business of Cannabis symposium is a success
The Business of Cannabis symposium, held at Penn State Lehigh Valley, was hosted by The Council for Retail and Sales (CRS) on March 11th.  Program sponsors included the Cleveland School of Cannabis, Milford Enterprises, Keystone Canna Remedies, and High Expectations Marketing.  The cannabis industry has seen significant growth in recent years as businesses and consumers are realizing the benefits of medical marijuana, CBD and industrial hemp.  The increasing level of demand has brought about opportunity and jobs for entrepreneurs and the CRS developed a lineup of industry experts who explored all aspects of the industry in the full-day educational symposium.
Topics included legal and human resources issues, marketing and branding, banking and financing, retail layout and more, all specific to the cannabis industry.
Speakers Tyrone Russell, Kevin Greene, and Austin Briggs of the Cleveland School of Cannabis provided an overview of the industry and job outlook.  Corbett Hefner, Vice President of R&D, Formation Ag (Colorado) discussed innovations in the cultivation of hemp.  Victor Guadagnino of Keystone Canna Remedies reviewed the successes and challenges of running a medical marijuana dispensary.  Jeff Adkins and Alex Fetterman of Milford Enterprises presented on various retail layouts for dispensaries and other businesses in the industry.  Lunch featured a discussion of the "The State of the State" with State Senator Judy Schwank and State Representative Mike Schlossberg. Special guest Jack Maxwell, from Travel Channel's "Booze Traveler" show, shared his inspiring experience with cancer and how cannabis products helped ease his pain. These experiences led to the filming of "The High Road with Jack Maxwell," an uplifting, adventure-packed series that explores the cannabis culture and industry.
Numerous breakout sessions were held throughout the day including supply chain and manufacturing, an industry outlook on CBD in Pennsylvania, the importance of corporate social responsibility and more. Batch Microcreamery was onsite to provide ice cream samples and 12 vendors participated in a Cannabis Marketplace to discuss their businesses with attendees.
"The Council for Retail and Sales at Penn State Lehigh Valley did a great job putting this together… an educational and well attended event. In an industry with so much confusion and deception, CRS put together a lineup of respected and super knowledgeable speakers," said Benjamin Davies of Wildfox Provisions.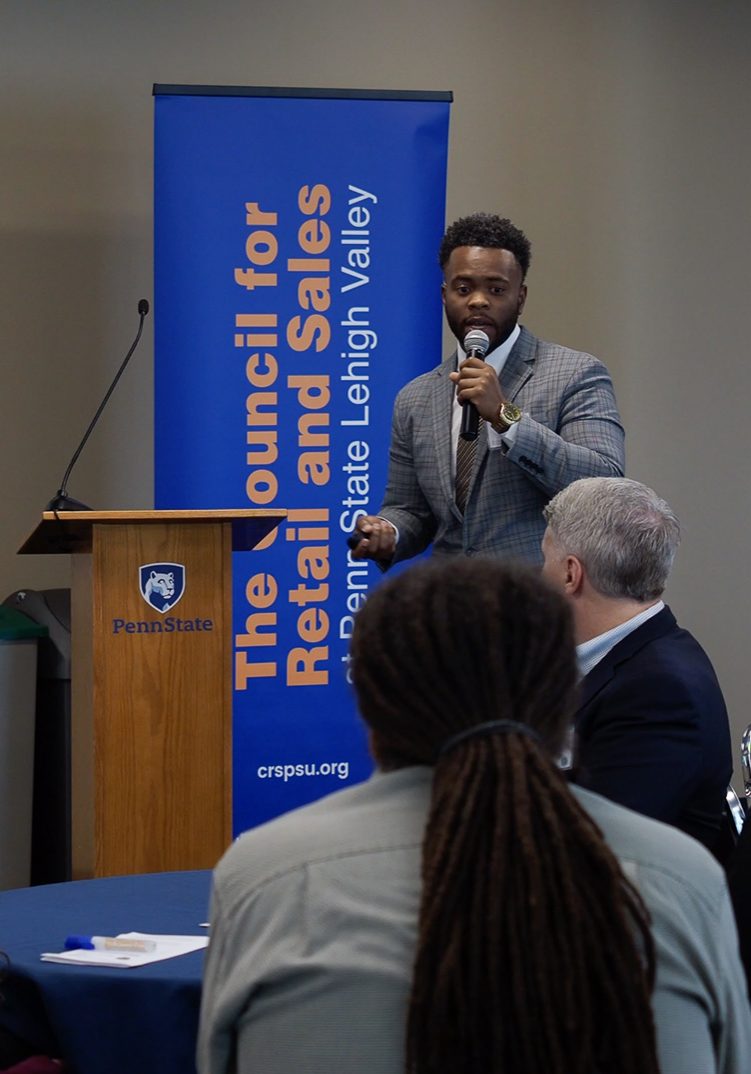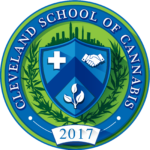 Meet the Experts: The Changing Landscape of the Retail Industry
Bethlehem, PA – The Council for Retail and Sales (CRS) held its second Meet the Experts event at Walmart's eCommerce facility in Bethlehem on September 25, 2019.  Walmart was the main sponsor of the event which drew over 70 attendees.  The event focused on the Changing Landscape of the Retail Industry and featured a panel of experts who discussed the future of shopping, consumer trends, and the need for constant innovation.
The panel of experts included Ellen Deyoc (Regional eCommerce Director, Walmart), Wayne Packer (Regional HR Director, Walmart), Dr. Denise Ogden (Professor of Marketing, PSU-LV & Vice-Chair CRS) and Jeremy Schmoyer (Financial Manager, Sherwin-Williams).  The program was moderated by Doug Nay (Associate Professor of Business, East Stroudsburg University).
The panelists discussed the shift from traditional brick-and-mortar to online business along with environmental implications, the evolution of the consumer, sustainability, and the need to fulfill the demands of an ever-changing workforce.  Walmart offered guided warehouse tours following the discussion as well as provided swag bags for each guest.  Many students were among the 70 attendees.  Sherwin-Williams also sponsored the event.
###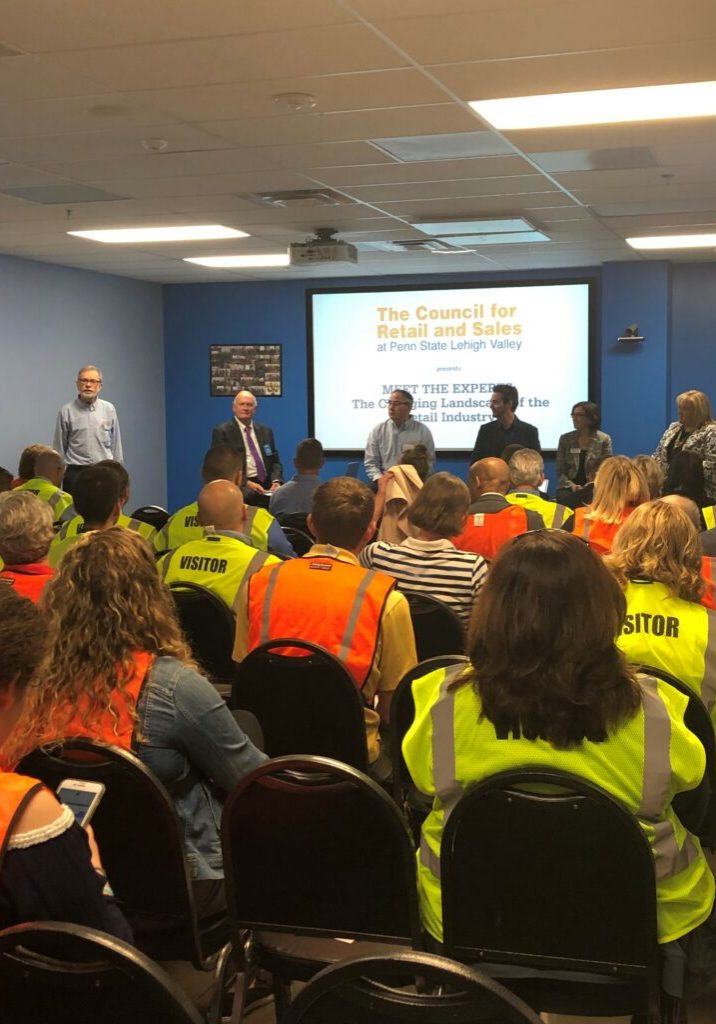 Pictured from left to right: Doc Ogden, Doug Nay, Jeremy Schmoyer, Wayne Packer, Dr. Denise Ogden, Ellen Deyoc. Photo credit: Elaine Thode
Meet the Experts: The Changing Landscape of the Food Industry
Bethlehem, PA – The Council for Retail and Sales (CRS) held its first Meet the Experts event at Factory in Bethlehem on April 25, 2019.  This first event focused on the Changing Landscape of the Food Industry and featured a panel of experts from various companies who have a vested interested in the food business.  The April event is the first in a series of Meet the Experts speaking engagements, each of which will focus on the changing landscape of a specific industry.
The panel of experts included Larry Davis (vice president of Food & Nutrition North America, Brenntag, Dallas, Texas), Keith Caldwell (operating partner, Factory LLC, Bethlehem, Pennsylvania), and Kiersten Hafer (vice president, Marketing & Innovation, Clemens Food Group, Hatfield, Pennsylvania).  The program was moderated by Shea Worman (food industry manager – Northeast Region, Brenntag, Reading, Pennsylvania).
Some topics of interest discussed by the panelists were the evolution of the consumer and the need for innovation, sustainability and social awareness. Approximately 70 guests attended the event including 10 students from various local colleges.
For Susan Sundaram, former QA Product Evaluation & Development and Sensory Analysis manager for AholdUSA, the event was of significant interest.
"The entire presentation was incredibly informative...the different backgrounds of the three speakers were well selected and complimentary to the focus of the presentation: a food manufacturer, an ingredient supplier, and a finance professional - all of whom have to adapt to the ever-changing consumer market," Sundaram said.
The next event in the Meet the Experts series will be held on September 25 and will focus on the Changing Landscape of the Retail Industry.
###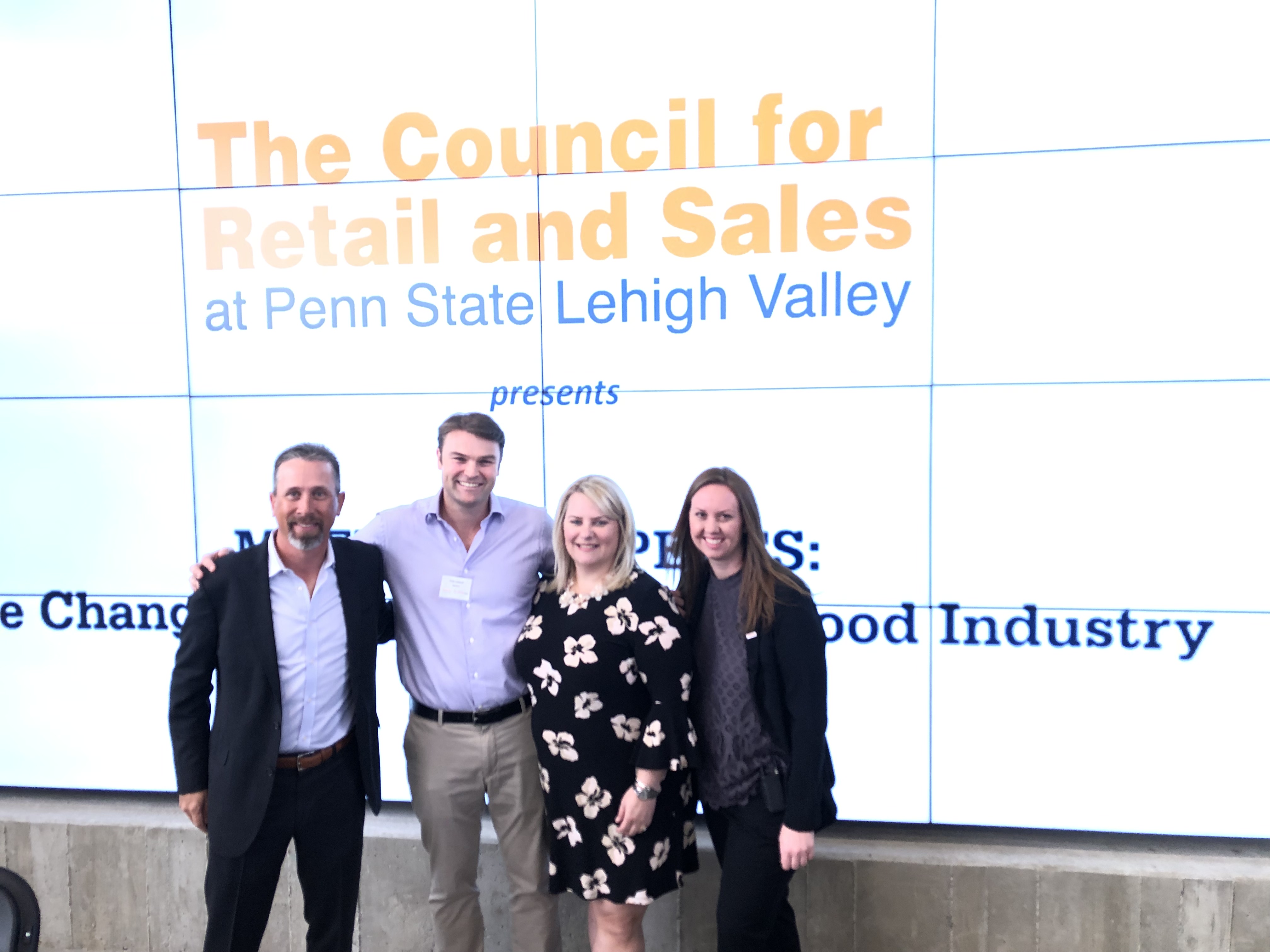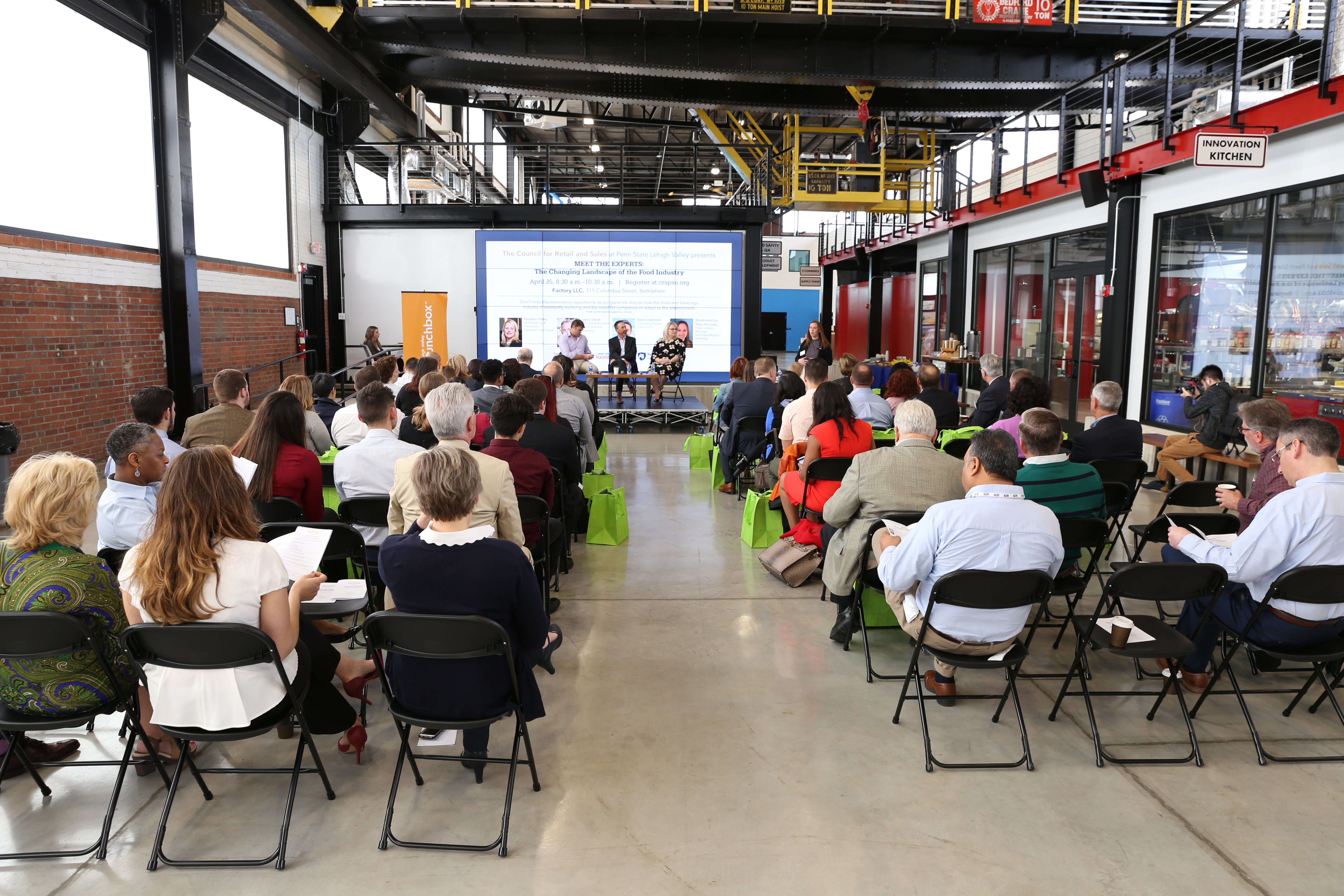 The CRS 2018 Collegiate Challenge
Powered by
The Management of Sherwin-Williams, The Americus Group, Eastern Division, took the concept of "The Apprentice" television series and applied it to a collegiate competition in retailing. The competition involved regional college students. The challenge was for the teams to create a plan that focused on increasing sales in the residential repaint segment. The teams were judged based on the written plan, a store visit, and the presentation of the plan. Students prepared the project during the fall and/or spring semesters and presented their plans at the competition held Nov. 6, 2018 at Penn State Lehigh Valley. The competition was co-sponsored by The Council for Retail and Sales (CRS), a nonprofit organization whose mission is to bring together retail academicians, students and practitioners.
"Student involvement in these competitions prepare them for the exciting world of retail," said James R. (Doc) Ogden, chair of the CRS, noting the talent and determination of the participants.
The judges of the competition were from Sherwin-Williams: Mike Williams, Northeast PA district manager, Chris Crocker, Northeast PA district sales manager, Jeremy Schmoyer, Eastern Division collection manager, Monica Schwab, Eastern Division marketing specialist and Jessica Furtado, area human resources generalist
"Involvement in student competitions allow us to see a different perspective to opportunities that we think about on a daily basis," Williams said.
Five teams competed in the competition. The first place winners were from Penn State Scranton. The team took home a traveling trophy to be housed at their campus until next year's challenge. These winners also each received a $250 scholarship from Sherwin-Williams.  Sweet Briar College took a close second place and each team member received $100 from Sherwin-Williams.
"This was a good experience that taught me a lot about how to present and research and figure out solutions to a problem I may not fully understand at first," said Angelica Kalsi, first-year student at Penn State Lehigh Valley. "I think it was a good experience in leadership and in working with a group."
While the judges deliberated, Elly Martin, North Area recruiter for Sherwin-Williams, spoke to students about career opportunities at the company and how to develop their resumes and prepare for an interview.
Previous sponsors of the competition have included:  Walmart, Z-CoiL, Sorrelli, Target, Enterprise-Rent-A-Car, and Stuff'n Mallows.
If you have any questions, please contact Denise T. Ogden , Ph.D., from the Council for Retail and Sales at Penn State (dto2@psu.edu).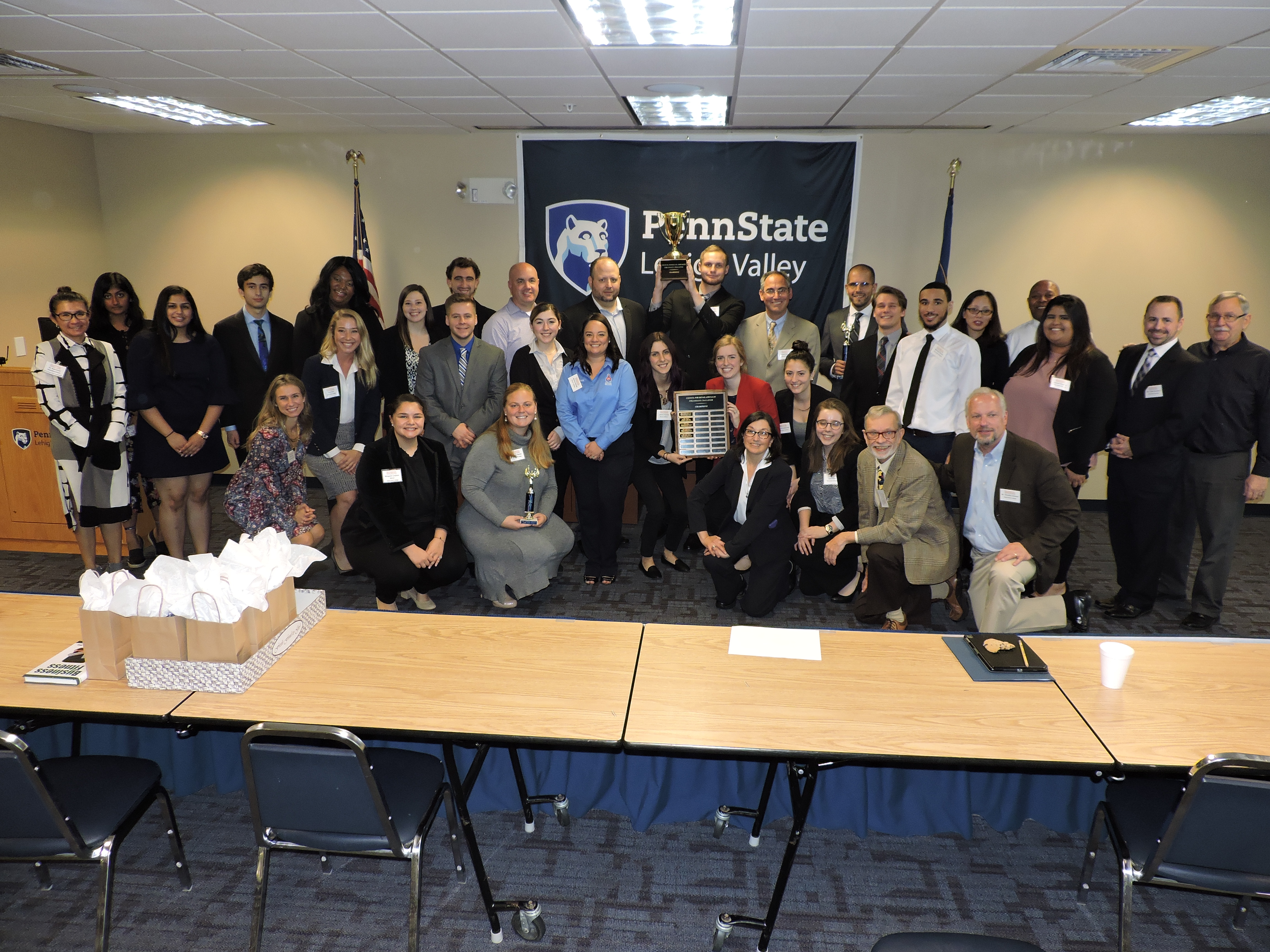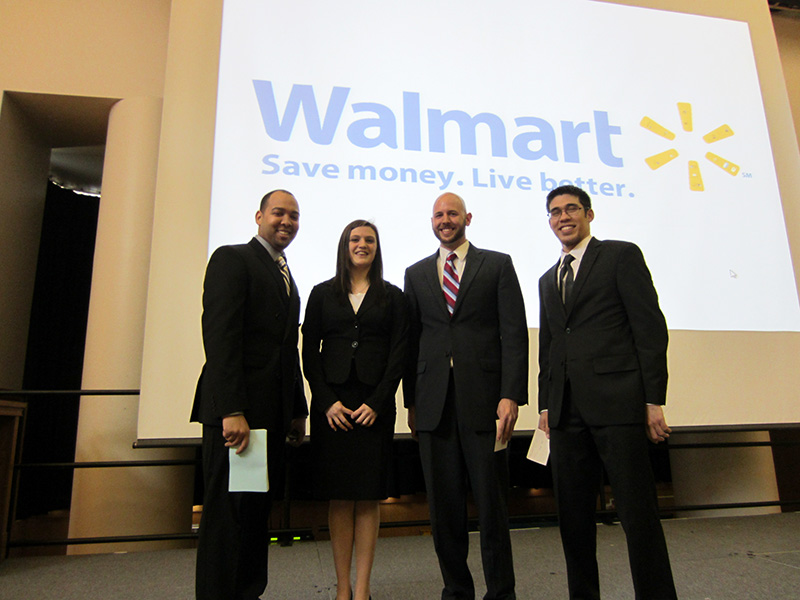 The Business of Entertainment Symposium
The VIP All-Access Business of Entertainment Symposium proved to be full of edutainment (education + entertainment) on the business aspects of the unpredictable entertainment industry, including Broadway and cinema. The event was held October 12, 2018 at the Penn State Lehigh Valley campus and hosted by the Council for Retail and Sales, a division of LaunchBox. Student from various colleges and people from the area as well as six states were present for the event.
Susie Krajsa, President of Broadway Across America (BAA) provided a behind the scenes look at how the subscription part of BAA operates. The theatre show, Hamilton, led to the "Hamilton Effect." Krajsa explained that subscriptions to BAA rise considerably when Hamilton is part of a season's line up.
Angela Shelton, movie actor, director and producer, spoke about her feature film, Heart, Baby! which brings light to an untold, historical true story. The film is premiering in New York City on November 16.
Pat Addiss, a theatre producer who is currently producing the off-Broadway hit, Desperate Measures, was interviewed by Liz Keptner, the Multi-media Innovation Center Director at PSULV. Addiss spoke about the struggles and successes of being a producer. She stated that producing live theatre is addicting.
Jack Maxwell, host and professional actor, made the audience laugh and cry when he shared the story of how a poor kid from Boston became an actor. Despite having had a chemo therapy treatment a few days before, Maxwell was in full energy mode and finished to a standing ovation.
Three breakout sessions were conducted by Frank Megna, director, actor and writer from Los Angeles who spoke about how directors work with the "suits" or business people. Lauren Yarger, a critic who reviews Broadway and Off-Broadway theater in New York and professional theater in Connecticut, discussed the changes in the profession. Bryan Tuk, an entertainment industry attorney, spoke about copyright laws and how important it is for entertainment professionals to hire a lawyer.