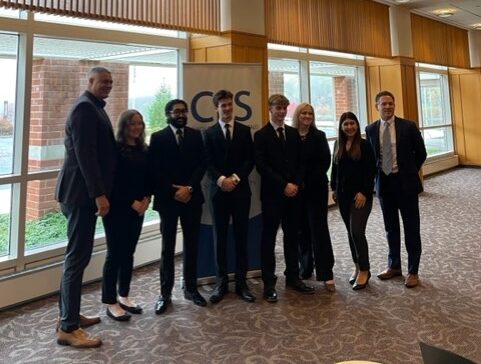 Penn State Lehigh Valley wins local Collegiate Challenge
The Council for Retail and Sales (CRS), housed at DeSales University, hosts 1-2 collegiate case competitions each year. This fall the competition was held on Oct 26, 2022 and sponsored by Haydenfilms Institute (HFI), a non-profit agency in the filmmaking industry. Teams from Penn State Lehigh Valley took both 1st and 2nd places. The winning team, 4K Consulting, was led by faculty advisor Dr. Denise Ogden and consisted of students Huda Khan, Hayya Khan, Sabiha Kermalli, and Kevin Pierce.
Seven teams altogether competed in the competition and were tasked to solve a real business opportunity for the sponsor. The focus of this competition was to help HFI grow Cemboo, a video platform designed to help film festivals efficiently control, monetize, and distribute content on a global scale.
Hayden Craddolph, Executive Director for HFI and Founder/CEO of Cemboo, served as one of four judges for the competition. "It was a great honor to see the students think outside the box and present ideas that were completely new. Ideas that we have been thinking about ourselves in the research and development phases. But to see the students bring new concepts to life was such a pleasure," Craddolph said. Other judges serving were Chris Saraceno, VP & Partner, Kelly Auto Group; Tamara Ledbetter, Executive & Leadership Consultant of Center Gravity; and Barbara Awad, Consumer Research and Engagement Manager, Factory LLC.
Doc Ogden, Chair of the Council for Retail and Sales, remarked, "Every year the students set the bar higher. We are continually impressed and happy to help sponsors such as Haydenfilms fill internship positions."
The 1st place winning prize was $1200 and 2nd place prize was $400. The competition was judged on a written executive summary and an in-person presentation to a panel of judges. MakeFilms Lions Consultants, also from Penn State Lehigh Valley, comprised of Joseph Confer, Justin Hoppes, Aaryan Patel, and Brianna Peters, took 2nd place. The judges selected Tom Greves, DeSales University, for Best Q&A and Justin Heckler, Penn State Abington, for Best Presenter. Other colleges participating included DeSales University, Penn State Abington, Kutztown University, and East Stroudsburg University.
Walmart will sponsor the next competition, scheduled for March 21, 2023. Check thecrs.org or follow CRS on Facebook for more information.