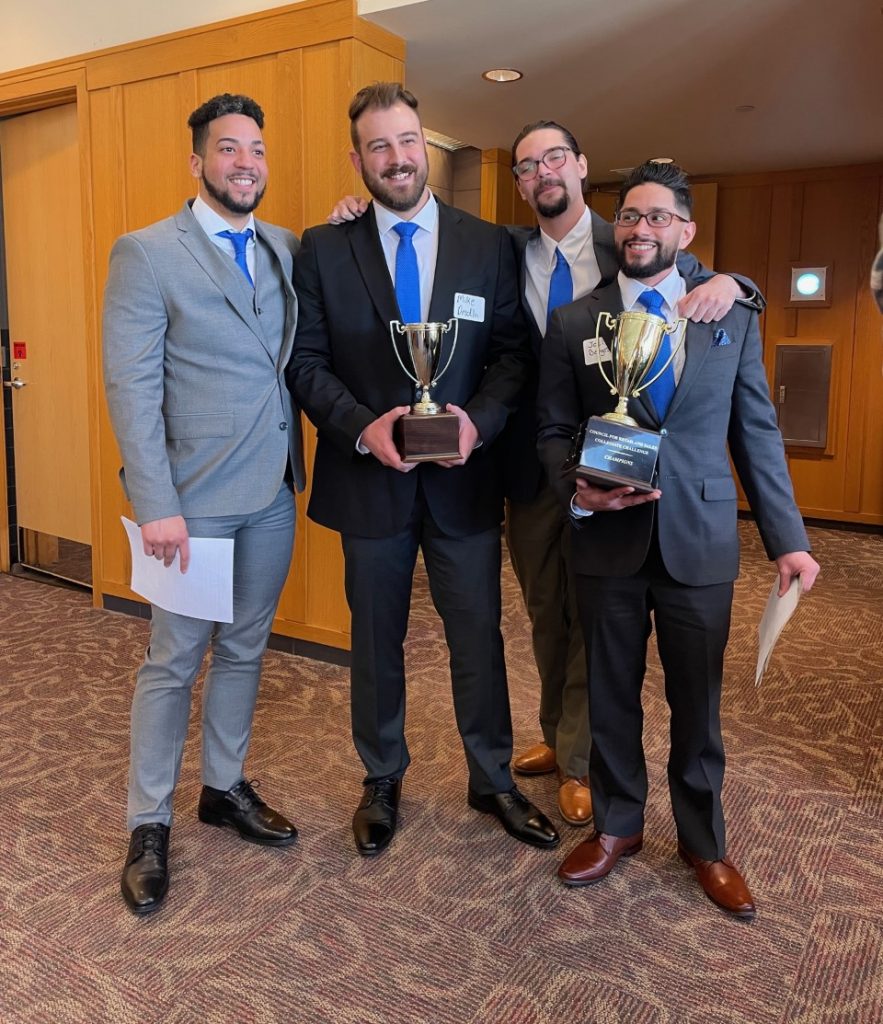 Northampton Community College team wins local Collegiate Challenge
The Council for Retail and Sales (CRS), housed at DeSales University, hosts up to two collegiate case competitions each year.  This spring the competition was held on March 21, 2023 and sponsored by Walmart. A team from Northampton Community College took 1st place. The winning team was led by faculty advisor Wendi Achey and consisted of students Michael Dredla, Joel Borges-Lebron, William Thompson, and Luis Rodriguez.
The students were tasked to solve a real business opportunity for the sponsor. The focus of this spring's competition was to help Walmart develop cost-effective ideas for sustainability. Seven teams from the following universities competed – Thomas Jefferson University, Kutztown University, DeSales University, Penn State Lehigh Valley, and Northampton Community College.
"We were excited to include Thomas Jefferson and Northampton Community College this time around. It's always great to have new contenders participate," said Elaine Thode, CRS Director.
The six judges were all representatives from Walmart and included: Jonathan Vazquez, Market Coordinator; Joanne Zahran, Marketing Human Resources Manager; April Long, Market Digital Operations Lead; Leona Kalaluka, Store Manager; Adam Vutech, Store Manager; and Megan Hudak, Store Manager.
"This competition gives the students such a real-world experience and even better, many internships were solidified today," said Doc Ogden, chairman of the CRS board.
The 1st place winning prize was $1200 and 2nd place prize was $400. The competition was judged on a written executive summary and an in-person presentation to a panel of judges. A team from Penn State Lehigh Valley, comprised of Huda Khan, Sabiha Kermalli, Jasmin Khan, and Amir Siddiqui, took 2nd place. The judges selected Chanaly Rodriguez from Kutztown University as Best Presenter and Huda Khan from Penn State Lehigh Valley for Best Student during the judge's question and answer session.
Brenntag will sponsor the next competition, scheduled for fall 2023. Participation is open to undergraduates from any college or university. Check thecrs.org or follow CRS on Facebook for more information.