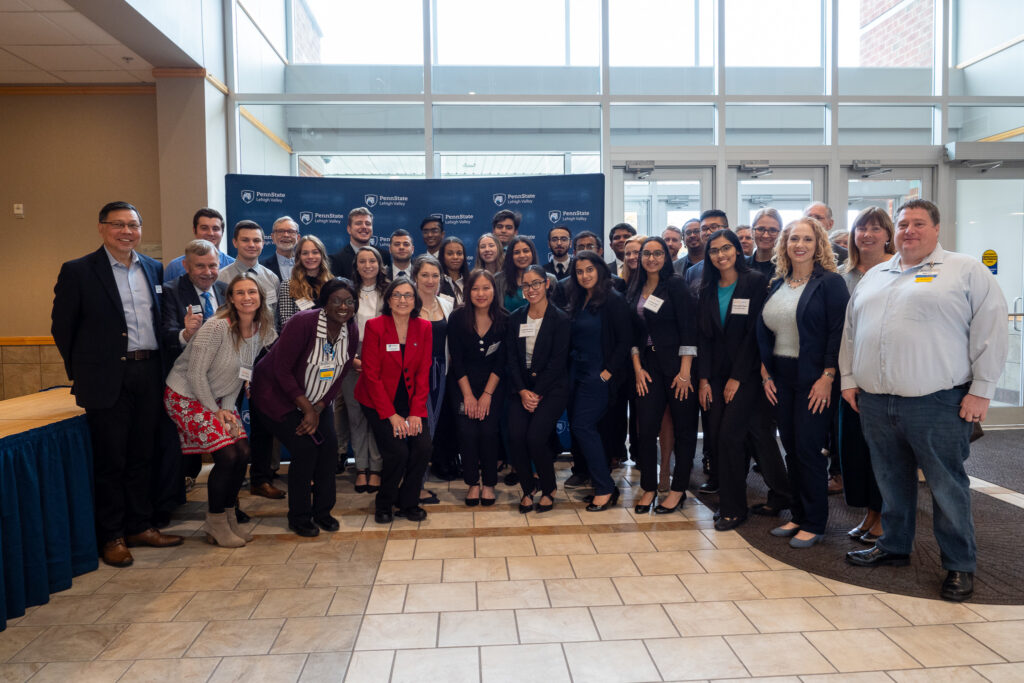 2019 Collegiate Challenge
Winners announced for the 2019 CRS Collegiate Challenge powered by Walmart
Penn State Abington wins competition
The Council for Retail and Sales (CRS) took the "Shark Tank" television show concept and applied it to a regional collegiate competition in retailing and sales on Oct. 17 at the Lehigh Valley campus. Undergraduate teams from two-year and four-year colleges were eligible. Each team was tasked with providing recommendations on how to grow Walmart's eCommerce sales.
"Student involvement in these competitions prepare them for the exciting world of retail," said James R. (Doc) Ogden, co-chair of CRS, noting the talent and determination of the participants.
The judges of the competition were from Walmart, including: Nicole Everett, market manager; Larry Murphy, market eCommerce manager; Joanne Zahran, market human resources manager; Adam Vutech, store manager; and Marvin Faison, market fresh operations manager.
"The competition's a tremendous way to help students go from the classroom and help solve real world problems," said Denise Ogden, co-chair of CRS and professor of marketing at Penn State Lehigh Valley.
Seven teams competed in the event. The first-place winners were from Penn State Abington. The team took home a traveling trophy to be housed at their campus until next year's challenge. These winners also received $1,000 from Walmart. The second-place team received $400 from Walmart.
"This was a great opportunity that I was hesitant to try at first, but now that I did, I am happy I gave it a try." said Moshe, a student from Penn State Abington. "It was the best thing for me to prepare for the business world."
The winning teams were as follows:
1st place – Penn State Abington Team 1
Advisers: Thomas Stone and Kevin Mayhew
Farrukh Karimov
Makeeda Murray
Hridoy Shawkat Ali
Callista Weigel
2nd place – Penn State Lehigh Valley
Adviser: Denise Ogden
Hemil Patel
Yusuf Horuz
Jaspreet Kaur
Namjot Kang