Business of Cannabis Symposium is a success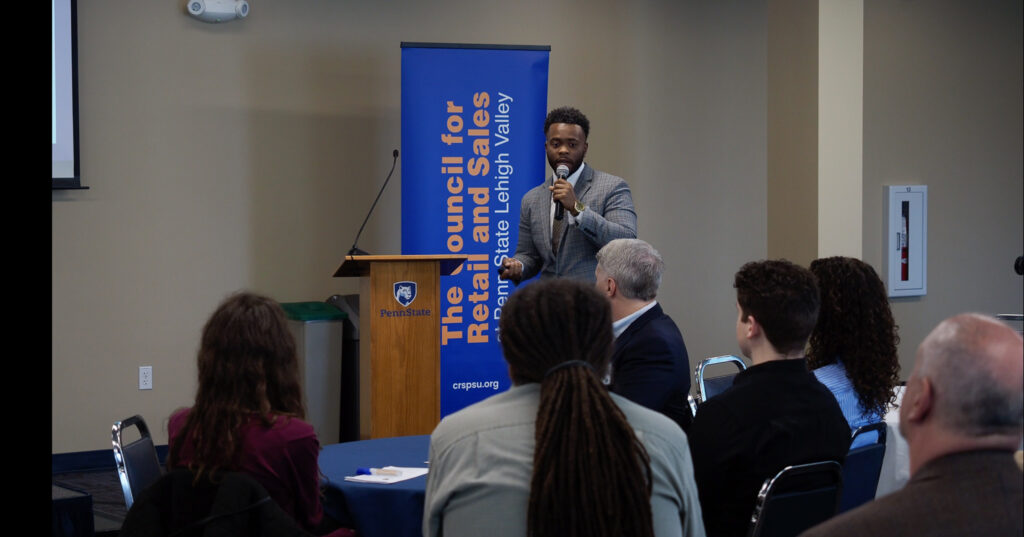 Center Valley, PA – The Business of Cannabis symposium, held at Penn State Lehigh Valley, was hosted by The Council for Retail and Sales (CRS) on March 11th.  Program sponsors included the Cleveland School of Cannabis, Milford Enterprises, Keystone Canna Remedies, and High Expectations Marketing.  The cannabis industry has seen significant growth in recent years as businesses and consumers are realizing the benefits of medical marijuana, CBD and industrial hemp.  The increasing level of demand has brought about opportunity and jobs for entrepreneurs and the CRS developed a lineup of industry experts who explored all aspects of the industry in the full-day educational symposium.
Topics included legal and human resources issues, marketing and branding, banking and financing, retail layout and more, all specific to the cannabis industry.
Speakers Tyrone Russell, Kevin Greene, and Austin Briggs of the Cleveland School of Cannabis provided an overview of the industry and job outlook. Corbett Hefner, Vice President of R&D, Formation Ag (Colorado) discussed innovations in the cultivation of hemp. Victor Guadagnino of Keystone Canna Remedies reviewed the successes and challenges of running a medical marijuana dispensary. Jeff Adkins and Alex Fetterman of Milford Enterprises presented on various retail layouts for dispensaries and other businesses in the industry. Lunch featured a discussion of the "The State of the State" with State Senator Judy Schwank and State Representative Mike Schlossberg. Special guest Jack Maxwell, from Travel Channel's "Booze Traveler" show, shared his inspiring experience with cancer and how cannabis products helped ease his pain. These experiences led to the filming of "The High Road with Jack Maxwell," an uplifting, adventure-packed series that explores the cannabis culture and industry.
Numerous breakout sessions were held throughout the day including supply chain and manufacturing, an industry outlook on CBD in Pennsylvania, the importance of corporate social responsibility and more. Batch Microcreamery was onsite to provide ice cream samples and 12 vendors participated in a Cannabis Marketplace to discuss their businesses with attendees.
"The Council for Retail and Sales at Penn State Lehigh Valley did a great job putting this together… an educational and well attended event. In an industry with so much confusion and deception, CRS put together a lineup of respected and super knowledgeable speakers," said Benjamin Davies of Wildfox Provisions.
Join CRS or follow us on Facebook @crspsu, Instagram #crspsu, and LinkedIn to stay updated on future programs. CRS membership is currently being offered at no cost and is available on thecrs.org.
This event was sponsored by the Council for Retail and Sales (CRS) which is located at Penn State Lehigh Valley in Center Valley, Pennsylvania. The CRS is part of PSU-LV's Innovation Center and works in conjunction with the PSU-LV's Lehigh Valley LaunchBox. CRS works with the retail and sales communities to stimulate interest in retail and sales careers. The council is a leading authority on issues and solutions that face the retailing and sales industries. In addition to professional education and engagements, CRS connects students to entry-level retail and sales opportunities.
For more information, visit www.thecrs.org