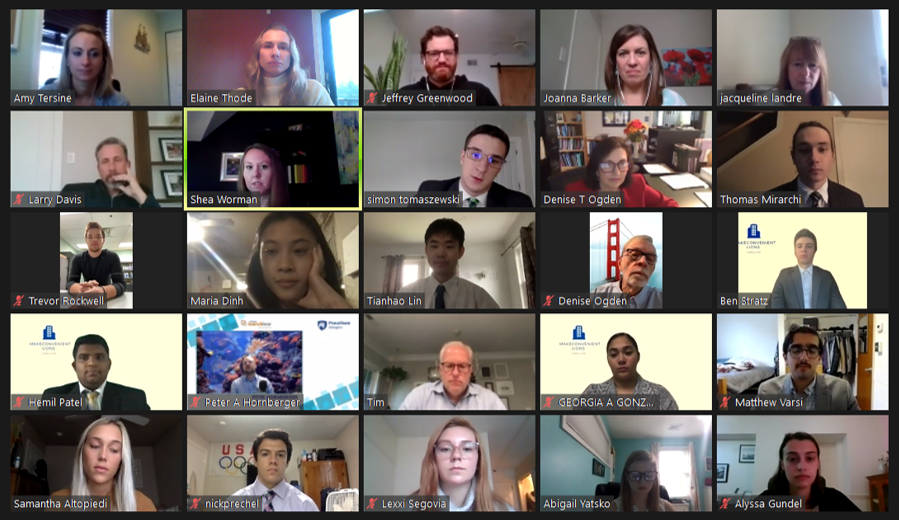 PSU-LV wins CRS Collegiate Challenge for 2nd consecutive time
Center Valley – Oct 31. The Council for Retail and Sales, housed at DeSales University, hosts two collegiate case competitions each year. This semester's competition was sponsored by the global powerhouse Brenntag Food & Nutrition. In its 2nd consecutive win, Penn State Lehigh Valley team MakeConvenient Lions Consulting, led by faculty advisor Dr. Denise Ogden, took home 1st place. The winning team consists of students Hemil Patel, Georgia Gonzalez, Ben Stratz, and Simon Tomaszewski.
Seven teams altogether competed in the competition and were tasked to solve a real business opportunity for the sponsor. The focus of the competition was to help Brenntag launch a new product line during the time of Covid-19 when typical face-to-face sales models will not work. Many customer R&D and purchasing departments are working remotely, not accepting supplier visits, and industry tradeshows have been canceled. Brenntag tasked the teams with finding creative solutions to get this new product out to market and quickly generate sales.
Shea Worman, Business Development Manager for Brenntag Food & Nutrition and one of five judges for the competition said, "It was so much fun! It really was difficult to pick the best teams. All the students were professional and did a great job. The judges and I learned so much and have a lot of fresh ideas to share with our teams. We loved the experience and cannot wait to sponsor the program again!" Doc Ogden, Chair of the Council for Retail and Sales, said, "We were excited to have such high-profile judges who get to witness different perspectives and recruit some of the best students in the state."
The 1st place winning prize was $1500 and 2nd place prize was $500. The competition is judged on a written executive summary and recorded video presentation. Nittany Consultants from Penn State Abington, comprised of Kyra Fripps, Tzuyin Su, Christopher Liston, and Aidan Pulli, took 2nd place. Amnah Kahn, from PSU Lehigh Valley won the best presenter award. Other colleges participating included Bloomsburg University, University of Lynchburg, and PSU Wilkes-Barre.
"We always look forward to this competition and it is becoming a high-profile event among our students. I can't think of a better way to prepare our students for business careers. I was very impressed with the Brenntag management team," said Dr. Thomas Stone, faculty advisor from Penn State Abington. The other faculty advisors from Abington included Peter Hornberger and Kevin Mayhew.
Giant Food Stores will sponsor the next competition. Check thecrs.org or follow CRS on Facebook for more information.