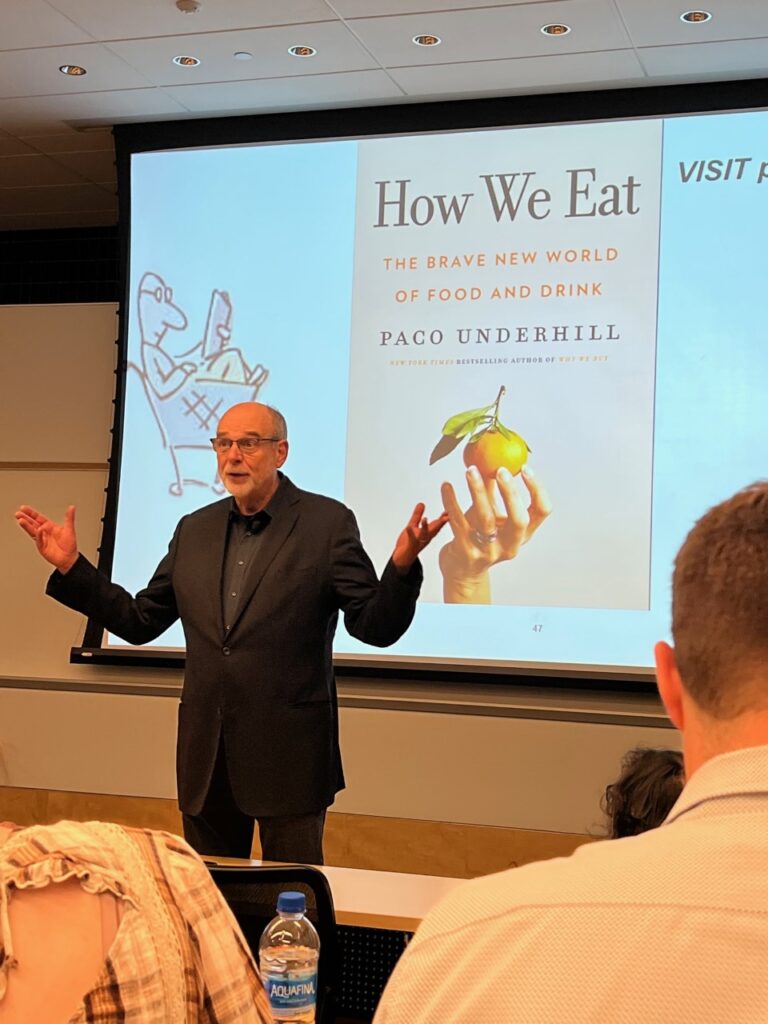 NY Times best-selling author, Paco Underhill, speaks at DeSales University
On April 28, 2022, the Council for Retail & Sales (CRS) hosted NY Times best-selling author, Paco Underhill, at its "Meet the Experts" event at DeSales University. Students, business professionals, and the general public crowded around to hear Underhill share his perspective on consumer trends and get a sneak-peek into his newly released book, "How We Eat: The Brave New World of Food and Beverages."
"Paco is a visionary," said Doc Ogden, chair of the board of directors for CRS. Ogden was thrilled to bring Paco to the Lehigh Valley. "He is passionate, insightful, motivating, and a dear friend."
In his engaging, and at times very funny, lecture, Paco shared clips from store cameras that showed why pet stores should not wax their floors and why goods purchased predominantly by women shouldn't be displayed on the highest shelf. The clips drew much laughter while displaying Paco's belief that paying attention to consumer behavior and making slight modifications will lead to delivering added value and increased sales.
Underhill began his career teaching in a doctoral program in environmental psychology, but it didn't take long for him to discover that bringing his research to life was more rewarding than just talking about it. Just a short time later, Underhill brought Envirosell to life and picked up some consulting jobs for small, local stores. In one of his early contracts, he recalls how the store manager was upset with him when the store ran out of a week's worth of circulars after Underhill simply moved the display rack to a more prominent position.
Envirosell has since grown into a worldwide business with headquarters in NYC and offices in Japan, China, and South Korea. With an impressive client list, the company operates in 47 countries and has been profiled in The New Yorker Magazine, Smithsonian Magazine, and others. Underhill is also a columnist for Design: Retail, The Robin Report (Goldman Sachs – Intel Newsletter) and writes articles and op- eds for major magazines and newspapers, including a recent op-ed in Toronto's Globe and Mail.
During Underhill's one-hour talk, he showed photos of products and storefronts from countries he's visited all over the world. He compared how different countries package products differently and more environmentally friendly, and how some countries have adapted to growing vegetables in shipping containers to improve efficiencies.
"Food chains need to be more responsive to what consumers are buying," Underhill said, noting that constant reforms need to be made to keep up with evolving consumer expectations in a post-pandemic world.