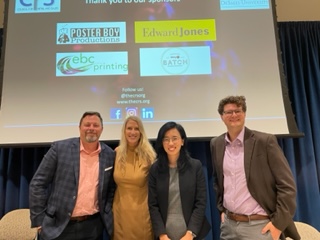 Experts from the media industry spoke at DeSales University
Media is one of the most powerful industries out there – the role is to inform the masses, influence public opinion, and push government agendas. It's also an industry that is constantly evolving, and media companies must continuously adapt to new technologies and applications to stay relevant among users. On Tuesday, September 13, 2022, the Council for Retail and Sales (CRS) hosted Meet the Experts: The Landscape of Media, which included a panel of three experts with various backgrounds within the media field. The panel consisted of Marty Blich, Executive Director of Sports and Live Events at Group M; Dr. Haiyan Jia, Assistant Professor of Journalism and Communications at Lehigh University; and Kit Fox, Director of Membership for Lehigh Valley News (Lehighvalleynews.com, PBS39, and 91.3WLVR). Liz Keptner, an Emmy-award winning publisher and former news anchor, served as the moderator for the event. Liz is currently the Director of the Multimedia Innovation Center at Penn State Lehigh Valley and was a perfect complement to the panel. The event was sponsored by Batch Microcreamery, EBC Printing, Edward Jones, and Poster Boy Productions.
Blich spoke of the dramatic shift in media over the last five years as more viewers are moving from traditional cable to streaming content online with apps such as Hulu Live and YouTube TV on the rise. The viewing habits of where and how customers are consuming sports are changing and streaming gives advertisers the ability to reach more people as well as tailor the content to each consumer. Blich noted the fundamental difference in which advertisers want to engage with sports programs; advertisers that once focused on male-dominated sports such as the NFL and MLB are now shifting their focus to engage women and are expanding to include sports like pickleball and beyond.
"When an advertiser is spending millions of dollars on ad space, you now need to do a ton of social media leading up to the ad airing, not just air the commercial," said Blich. "It's about survival for companies because the original broadcast model is no longer working."
As for local companies such as PBS39, Fox acknowledged the decline of traditional public cable TV. Where PBS used to be a distribution network, the company is now doubling down on content and investing in local news. "There was too much relying on traditional advertising, and that is no longer PBS's main source of revenue," said Fox.
Dr. Jin's area of focus and research makes her an expert in social media trends. Jin spoke about how the audience is becoming increasingly more active and is, to a certain extent, the ones sending the messages out and controlling the media. In relation to sports, Jin says social media is disrupting traditional sports programming because audiences can tune in at various times and places and go on the web any time to view highlights instead of watching the full game. "The audience is no longer made of 'viewers' but instead are 'active users," Jin explained.
"It was so interesting to listen to their perspectives coming from three different vantage points," said Elaine Thode, Strategic Development Director for CRS. "They all complimented each other so well."
One tip that attendees who are interested in promoting their businesses walked away with is that traffic and impressions alone are not valuable; action and email addresses add true value. Per Jin, user engagement is important. Getting a 'like' or comment is much more valuable than someone simply reading an article or blog. It is important for marketers to pay attention to web traffic across platforms to better understand and reach their market.
Platforms like TikTok and Instagram are using 'micro celebrities' to promote products instead of typical celebrity endorsements such as movie stars, etc. TikTok, a popular app among kids and young adults, uses short 10-second video clips made by influencers to promote products. When a product trends on TikTok, it very often sells out nationally because of the reach these influencers have.
Jin talked about algorithm biases as well. This phenomenon occurs because the technology behind the social media platforms is so advanced that the algorithm used knows so much about the user and it delivers a search result that is customized to the user. For example, when one person performs an online search, he/she gets a result based on their background, recent searches they've done, etc. When another person performs that same search, his/her result will be different based on data that companies have collected about that person. Jin believes this overarching problem needs a solution and contributes to why people perceive things differently.
When the panelists were asked where they prefer to get their news from, they all agreed that Twitter was a great resource where users can receive unbiased information. Jin noted that "Facebook surrounds you with likeminded people/ads and you only see that type of news. You're basically listening to yourself." While Fox was (self-professed) biased that one should receive their news from Lehighvalleynews.com, he also recommended subscribing to a few email newsletters, which he said has great curated content.