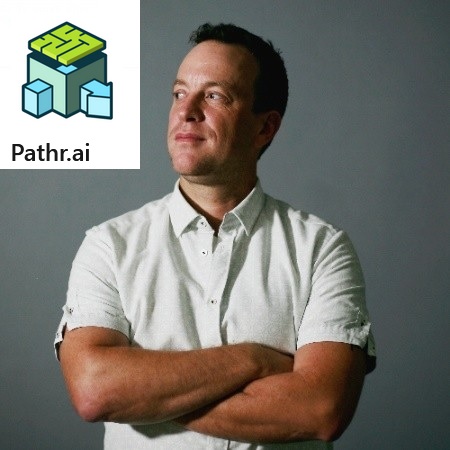 Spatial Intelligence expert speaks about connecting the movement of people to business results
On March 16, 2021, guests of the Council for Retail and Sales (CRS) at DeSales University attended a fascinating seminar with George Shaw, founder & CEO of pathr.ai ™, a disruptive new pioneer in the Spatial Intelligence space. This event was part of Meet the Experts, a speaker-series sponsored by CRS in which each event addresses an important topic in the retail and sales professions and features a subject matter expert(s). The event was powered by Walmart and Adtell Communications.
Shaw spoke and answered questions about the first AI-Powered Spatial Intelligence Platform used to generate and analyze anonymous location data to create/derive actionable, real-time insights for businesses and businesspeople. Pathr.ai ™ operates internationally to help solve problems in many areas including lease value metrics, retail traffic patterns, security, and large space analytics.
The presentation benefited professionals who work in warehouses, factories, hospitals, malls, colleges and universities, resorts, retail operations and more. Shaw discussed how these types of businesses can use spatial analytics in real time, thus allowing them to directly connect the movement of people to their business results. Rather than simply providing data, Pathr.ai ™ collaborates with customers closely to create actionable plans.
The session addressed important questions for retailers, such as:
– Is your staff interacting effectively with customers?
– Which fixtures and categories attract your customers most effectively?
– Which visitors to your locations are behaving suspiciously (i.e. shoplifting)?
– Does your space support safe social distancing?
– Is your staff using the most efficient restocking routes?
As the nation emerges from the COVID-19 pandemic and people begin to come together in retail spaces and events, Shaw's insight into the world of spatial analytics has been helpful in applying social distancing to otherwise crowded hotspots. Pathr.ai ™ can identify unsafe places and help customers adjust their traffic patterns.
Another application that Shaw discussed was understanding how children move through classrooms and interact with each other and their teachers. These patterns help schools determine if increased teacher interaction dictates better achievement. Similarly, spatial intelligence software has been used by the MBA to track players on the court and help teams figure out how to best defend the ball.
Shaw is an innovator in the fields of spatial analytics, Machine Learning (ML), Artificial Intelligence (AI) and related technology solutions. His company's products leverage the intersection of data and engineering.
Prior to founding Pathr™, Shaw held senior positions at RetailNext, Intel, Second Spectrum, Target, and many other leading-edge brands—working respectively in the capacities of Principal Engineer, Principal Data Strategist, Vice President of Research and Development, Technical Fellow and Scientific Advisor. He serves as an advisor to multiple start-up and emerging technology entities and is a senior lecturer and educator.
He additionally holds multiple U.S. patents for his inventive work in the areas of retail analytics methodology, customer movement and path analysis. Shaw graduated from Boston University, and holds a Master of Science degree from MIT.